CLICK THE PRODUCT BUTTONS TO VIEW OUR PRODUCT PAGES, AND TO PURCHASE ONLINE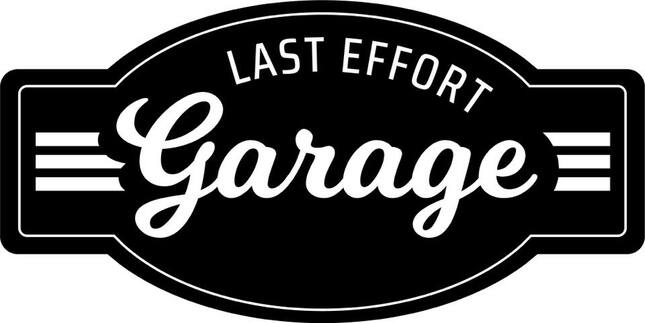 SPECIALIZING IN PARTS FOR:

​SHAY

CAMELOT

MODERN A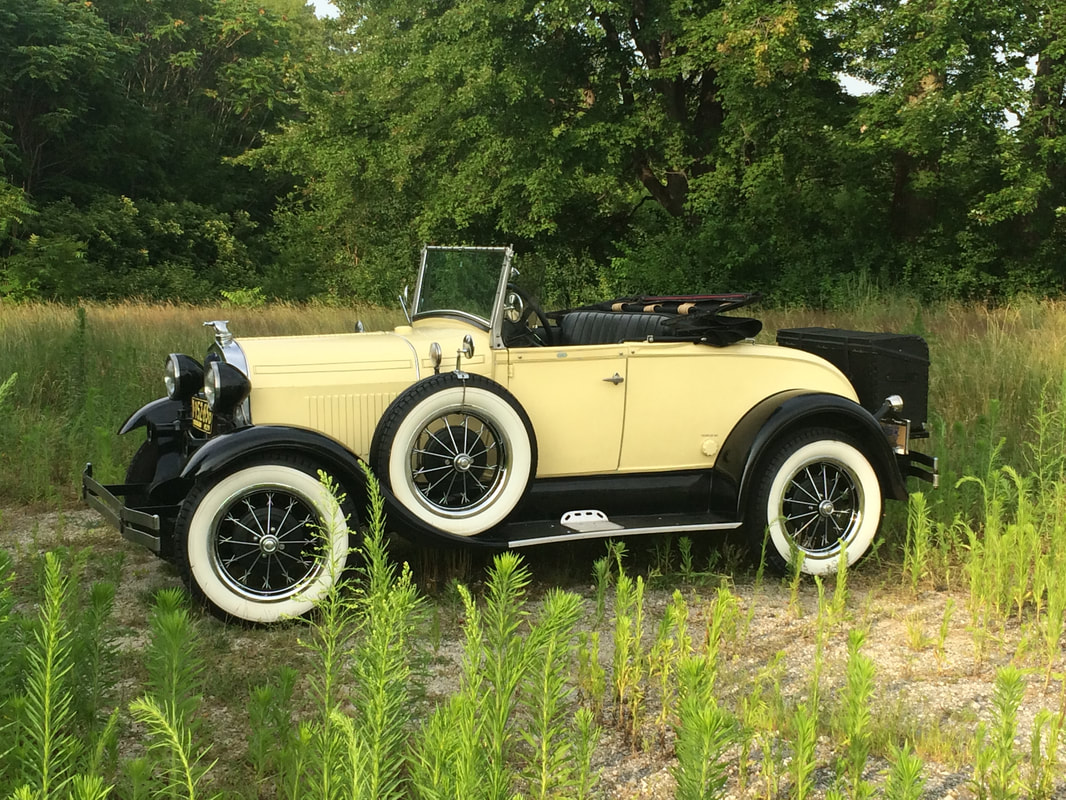 TO ORDER ANY OF OUR PRODUCTS SHOWN ON THIS WEBSITE, YOU CAN USE THE ONLINE STORE.
IF YOU PREFER YOU CAN EMAIL bob@lasteffortgarage.com
Or Call: 734-402-7230
Prices include shipping within the Continental USA! For Foreign orders, please contact us directly.
We ship worldwide, and can arrange Customs brokerage.
We accept MasterCard, Visa, American Express, PayPal, and U.S.A. Issued bank checks or Money Orders.
PayPal orders are taken over the phone or email only at this time.
​The online store accepts all major credit cards.

Last Effort Garage strives to help the owners of the 50th Anniversary Ford Model A's. These vehicles are commonly known as Shay, Camelot, or Modern A. We specialize in the products that other suppliers do not carry. If there is an item that you cannot find, please send an email, we may consider carrying the item in the near future.


THE FOLLOWING APPLIES TO PARTS ONLY,
NOT THE WAX AND CLEANING PRODUCTS:
THERE ARE MANY CHANGES COMING INCLUDING NEW SHIPPING CALCULATIONS ON PARTS, MIGRATION WITH THE SHAY PARTS SITE AND GENERAL CHANGES IN BUSINESS POLICY

UNLESS OTHER ARRANGEMENTS ARE MADE, PARTS WILL BE SHIPPED ON FRIDAYS ONLY. MANY ITEMS ARE MADE TO ORDER, DELAYS SHOULD BE EXPECTED IN SHIPPING.
​
CLICK ON THE LINK BELOW TO VIEW SOME VERY HARD TO FIND SHAY/CAMELOT FACTORY LEFTOVERS!
WATCH THE LEAF SPRING AND SUSPENSION BUSHING VIDEO BELOW
TO LEARN MORE ON MAINTAINING YOUR SHAY, CAMELOT, or SPEEDWAY MODERN A ,
join the SHAY OWNERS GROUP on FACEBOOK.
​

| | |
| --- | --- |
| --- | We are now offering replacement leaf springs, and suspension components. These are reverse engineered off the original springs. High quality Moog or AC Delco shackle bushings. Made in the USA! Please contact for a custom quote for your vehicle needs. Please provide your postal code so that we can quote shipping. We also offer replacement U-Bolts, Spring Perches, Insulation Pads, shackle bushings, and more. Stop that saggy, leaning ride. Air shocks are only a band-aid. Fix it right with some new springs. |
Watch the video for shifter replacement:
TO PURCHASE ANY OF OUR ITEMS, GO TO THE TABS NEAR THE TOP OF THE PAGE TO SELECT THE CATEGORY.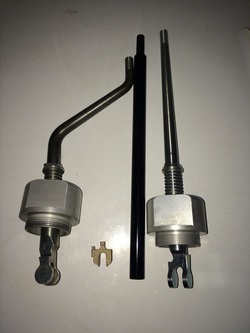 REPLACEMENT SHIFTERS FOR YOUR MANUAL TRANSMISSION.
We offer many options for your replacement parts.
Get rid of the nylon nut once and for all!
We stock shift levers, extensions, and bronze shift rail bushings.
​Email for further details.
​Kit Price (Shifter, Bushing, & Extension) $275.00
---
A few of the big advantages to our new shifter, you get rid of the nylon nut. It has a shorter throw. The Reverse lockout feature is wonderful, you must push down on the shift knob to get the lever to engage in reverse. The bronze bushing cleans up slop in your transmission shift rail as well. Video of the operation, installation, and customer testimonials on our facebook page.
We also offer replacement Map Lights and Headlight switches for your car.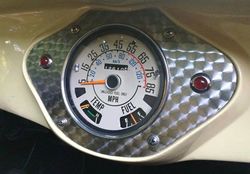 We offer a full range of Gauge Face makeovers. This one is Creme Colored to match the car. Many options are available. Easy to install while installing the dash overlay.
$25.00 plus shipping The Stainless Engine turned overlay is $95
​
---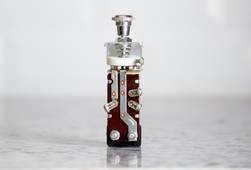 Headlight Switch faulty? Dash lights not working anymore? It could be your headlight switch, try out a new one.

---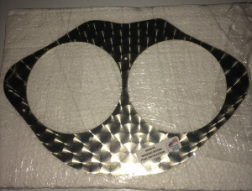 One of the latest special requests. Dual gauge model, without the map light hole. Customer was pleased with this product. Get yours today! $95.00 plus shipping.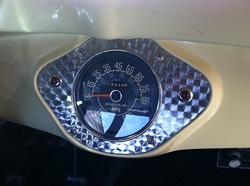 Example of one of our quality installs. This is a Shay Model A Deluxe Roadster, with the Single Gauge dashboard. This item installs very quickly, with minor work. Email for more details.
$95.00 plus shipping






---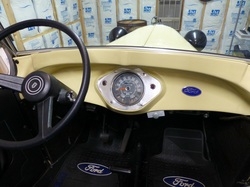 The next series of pictures are from a customer, who detailed the easy replacement of their dash overlay.

Customer's Original "Picture of Metal Dash overlay"


---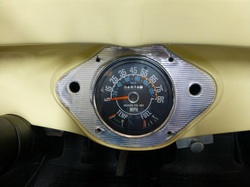 Removed mounting screws and indicator lights.
---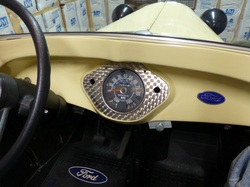 Test fit of the new overlay.
---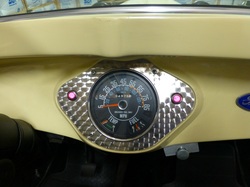 Close-up with the screws and indicator lights installed. Looks far better than the original!
---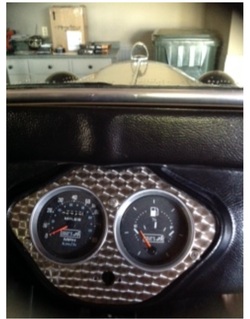 This customer purchased and installed this Two-Gauge dashboard overlay for their Shay Model A. This item can be customized for many applications, such as relocation of the ignition switch. Email for more details.

$95 plus shipping with or without hole for map light.

---
All of the dashboard overlays are made out of Stainless Steel with a show quality engine turned finish. Should a different pattern of finish be desired, ask! These are laser cut, and fit the contour of the dashboard well.

We can design a custom product for you, for many other items, not just dashboard overlays! Use your imagination, and ask.

If you can't send it to us- you can take a picture, and make a template of what you want. We can fabricate to your exact specifications.


Use the contact form below, or email

bob@lasteffortgarage.com

Last Effort Garage of Flat Rock, MI

(734) 402-7230